We test your security continuously
Companies usually hire Pen-Testing once a year to test their Security. At KEEP-IT-SECURE-24 we test your Security continuously and provide a cost-effective model in a Managed Service approach. With the dynamics that applications and infrastructures require these days testing once a year is a poor approach to your company's Security. Find out about the other differences that make our model unique.
| | | | |
| --- | --- | --- | --- |
|   | Traditional approach |   | |
| Testing Security of Infra-Structures and Application | Sim |   | Sim |
| Continuous Testing | Não |   | Sim |
| Synchronized with Change Management Process | Não |   | Sim |
| Re-testing after each vulnerability is corrected | Não |   | Sim |
| Provides a platform for vulnerability management | Não |   | Sim |
| Online metrics related to risk and vulnerabilities | Não |   | Sim |
| Quarterly Integrated PCI-DSS ASV Vulnerability Scans | Não |   | Sim |
| Reporting | One-Time Report |   | Continuous Online |
Management platform
KEEP-IT-SECURE-24 provides a unique management platform to deal with vulnerabilities. It allows escalation, tracking, communication and classification of Vulnerabilities.
Integration with change management
Perform Change in App or Infrastructure

 
 
 
 

Request Security Testing for change

 
 
 

Security Testing Performed

 
 

Vulnerabilities detected

YES

Solve Identified Vulnerabilities

NO

Security Verification for Change Completed
Integration with change management
Today's infrastructure and applications have to be much more dynamic and quickly adapt to business requirements.
As a result changes to the infrastructure and applications are inevitable, however they can result in, or expose new Security vulnerabilities.
Whenever a tactical or major change occurs, KEEP-IT-SECURE-24 can test if your changes had any impact to your Security.
Effective Risk Reduction
Testing your Security once a year will reduce risk but once changes are made new vulnerabilities and risk levels will rise again.
Our model ensures effective risk reduction due to the fact that our services are continuous and integrate with your Change Management inputs for a value-added testing.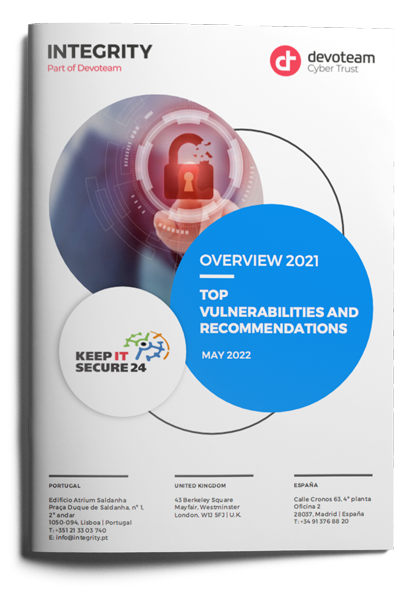 Overview 2021
TOP Vulnerabilities and Recommendations EBOOK
Based on KEEP-IT-SECURE-24 service performance in 2021, we produced a document with an objective and detailed analysis of vulnerabilities types, severity, historic evolution in INTEGRITY's clients, and respective recommendations to avoid them.
Team
A team can only feel good about its clients if it feels good about itself. At INTEGRITY we give utmost importance to knowledge sharing, good working environment and healthy competition to obtain the maximum performance in what we do.
INTEGRITY is essentially supported by Expert and Senior professionals who ally experience to relevant international certification in every area of focus.
Qualifications
MSc in Information Security (Royal Holloway)
PostGraduate in Information Security (Royal Holloway)
Certified Information Systems Auditor (CISA)
Certified Information Security Manager (CISM)
Certified in Risk and Information Systems Control (CRISC)
ISO 27001 Lead Auditor
Certified Information Systems Security Professional (CISSP)
Information Systems Security Management Professional (CISSP-ISSMP)
Offensive Security Certified Professional (OSCP)
GIAC Penetration Tester (GPEN)
eLearnSecurity Web application Penetration Tester eXtreme (eWPTX)
ITILv3
Offensive Security Web Expert (OSWE)
PCI-DSS QSA
Certifications & Accreditations
INTEGRITY is a certified company that is focused on protecting its clients' information and providing a world class service based on Industry Standards and best practices.
International reference and standard in Information Security Management. Its principle is to adopt a set of requirements, processes and controls to properly manage organisation risk. The goal of the accreditation has been the protection of our clients projects information. Read more
INTEGRITY is the only Portuguese company approved by CREST in what relates to its Penetration Testing services, that took into account all the Technical and Management issues of Penetration Testing. Read more
International reference and standard in Quality Management. The scope of INTEGRITY certification has been Consulting, Auditing and Advisory in Information Security and Implementation of Management Systems. Read more
INTEGRITY has undergone a process of accreditation with the Portuguese National Security Cabinet (PNSC) to meet customer requirements and requests regarding the access and handling of classified information. Read more
INTEGRITY was recognized by PCI Security Standards Council as a Qualified Security Assessor (QSA) certified entity, being our team of qualified consultants now capable of auditing companies' processes associated with payment card transactions independently, in accordance with the PCI-DSS global security standard. Read more
INTEGRITY has submitted to the accreditation process by Bancontact for payment security assessments in mobile applications under the Bancontact approval system. Read more
See most frequently asked questions